N°12 Carbon Steel Folding Saw 碳钢锯刀(榉木)
A camper or gardener's must-have. Perfect for your garden, this tool is also useful during outdoor activities, it turns out to be very handy and efficient. A small saw with a 120mm blade, this very light (3.6 oz / 102 grams) and rugged folding which cuts branches effortlessly。
A camper or gardener's must-have.
Perfect for your garden, this tool is also useful during outdoor activities, it turns out to be very handy and efficient.
A small saw with a 120mm blade, this very light (3.6 oz / 102 grams) and rugged folding which cuts branches effortlessly。
露营者或园丁的必备品。
该工具非常适合您的花园,在户外活动中也很有用,事实证明它非常方便和有效。
带有120毫米刀片的小型锯,这种锯非常轻巧(3.6盎司/ 102克),坚固耐用,可轻松剪断树枝。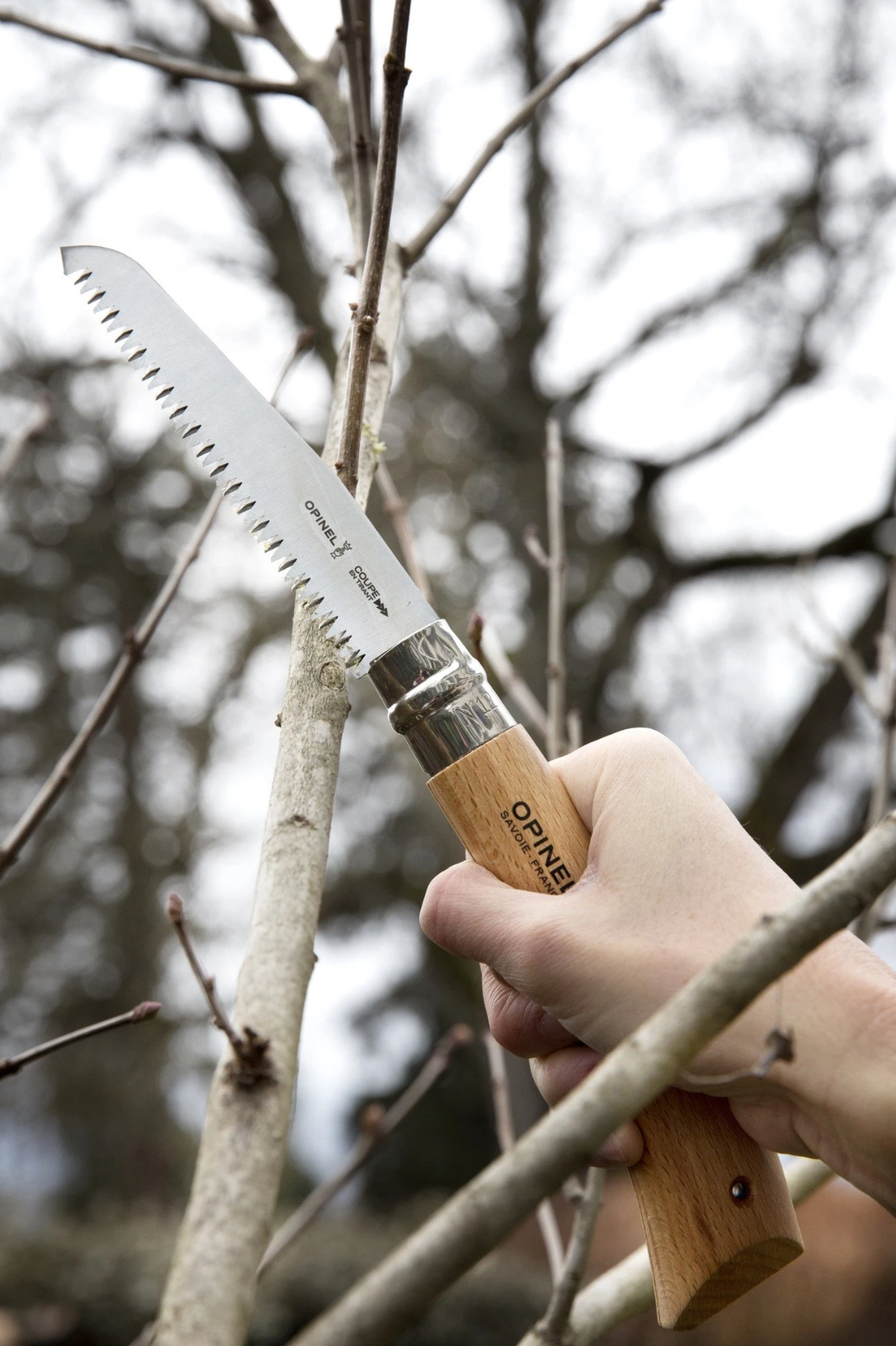 Blade | 刀部
120mm
Carbon steel blade with anti-corrosion coating guaranteeing both excellent cutting quality and protection against corrosion. Two rows of razor-sharp teeth turned towards the handle. Effortless cutting achieved simply by puling.
带有防腐蚀涂层的碳钢刀片可确保出色的切割质量和防腐蚀性能。两排锋利的锯齿,只需拉动即可轻松完成切割。
Handle | 手柄
160mm
Beech is the most commonly used wood for the manufacture of Opinel handles. From France, our beech is hard, durable and easy to work. With a homogeneous appearance, its light color varies from yellow to pink. It is characterized by the presence of numerous small dark dashes.
山毛榉是用于制造Opinel产品手柄的最常用木材。 它们是原生于法国的坚硬山毛榉,耐用而易于加工。其均匀的外观,分布着类似于黑色破折号的特色斑点。
Safety Ring | 安全环
Invented by Marcel Opinel in 1955, the Virobloc safety ring is fitted to all folding knives from the N° 06. Cut out of stainless steel, the Virobloc has two sections, one fixed and one sliding. In addition to locking the blade open (safety in use), it is now possible to lock the blade closed (safety in transport).
Virobloc安全环是由Marcel Opinel于1955年发明的,适用于从N°06起的所有折叠刀。Virobloc用不锈钢切割而成,有两个部分,一个固定,一个滑动。 除了将刀片锁定为打开状态(使用安全)之外,现在还可以将刀片锁定为闭合状态(运输安全)。