Carl Hansen & Søn, Denmark
The CH106 coffee table in glass and brushed stainless steel by Hans J. Wegner highlights visible construction and superbly crafted details in an experimental combination of modern materials. This coffee table is as elegant as it is useful.
CH106 | COFFEE TABLE
Designed by Hans J. Wegner
In Hans J. Wegner's CH106 coffee table, glass and stainless steel are combined in a light and elegant construction. The table is an example that shows Wegner was not limited to designing wooden furniture but also chose steel for his chair and table frames.
Coffee table in a stylish and timeless design.
Hans J. Wegner's square shaped CH106 coffee table is part of his furniture series CH100 from 1970, along with another coffee table, a lounge chair and three sofas – all with a similar base frame.
The sturdy, square glass tabletop rests on a frame consisting of two trestles in bent flat steel, which are connected via two transverse steel rails. The rails also function as a support for the top, whose polished glass makes the frame's structure fully visible. With the frames soft bends and the rounded corners of the glass, the design looks soft and harmonious despite its solid materials.
The CH106 coffee table is a fine example of Hans J. Wegner's viewpoint about good design which aims at finding a balance between the simple and the characteristic. The table also shows that Wegner was not timid about throwing himself into designs based on materials other than wood.
In addition to the square shaped CH106, Wegner designed a rectangular version of the table, CH108. Both tables are included in the CH100 series together with the CH101 lounge chair and the three sofas, CH102, CH103 and CH104.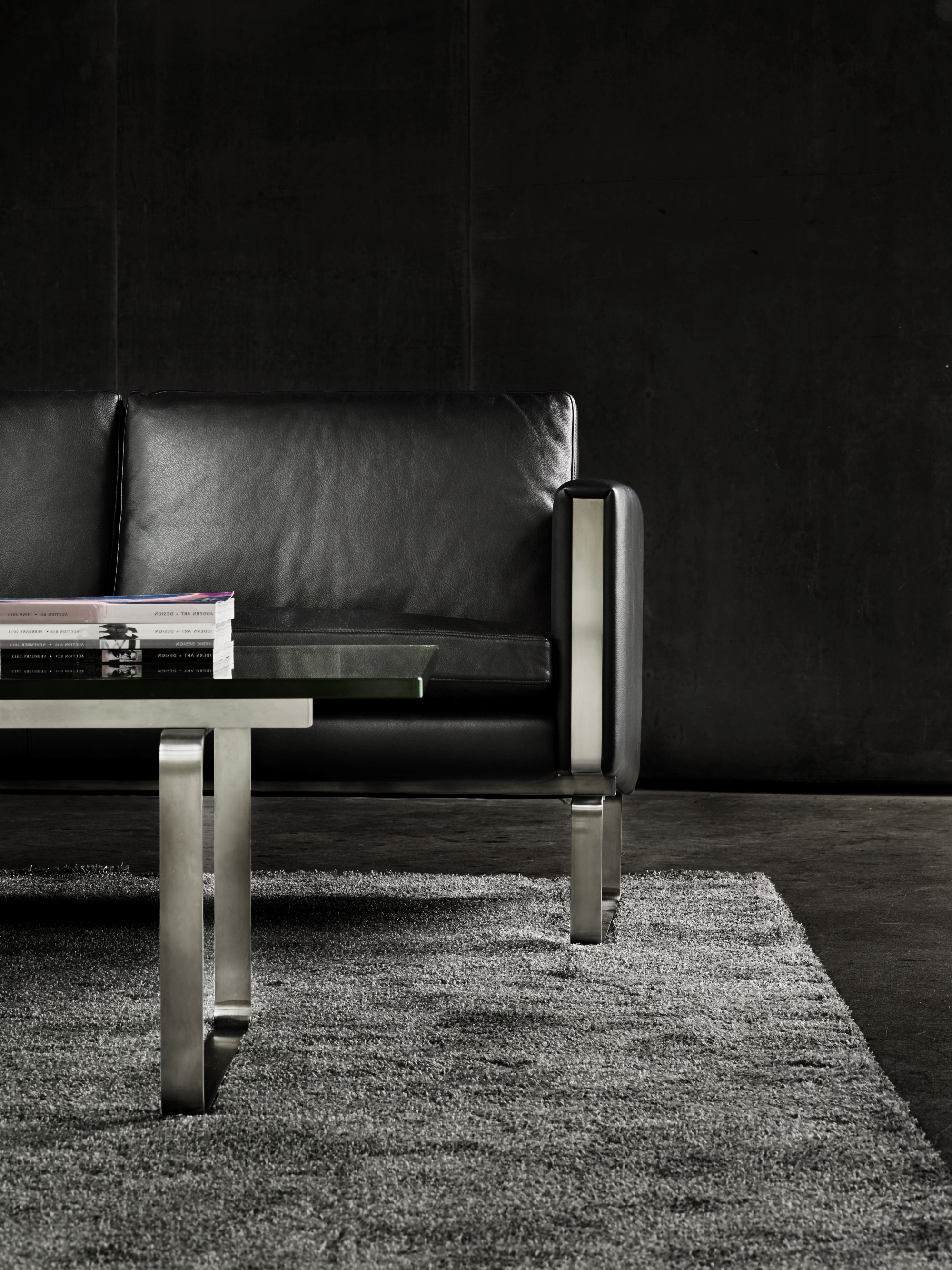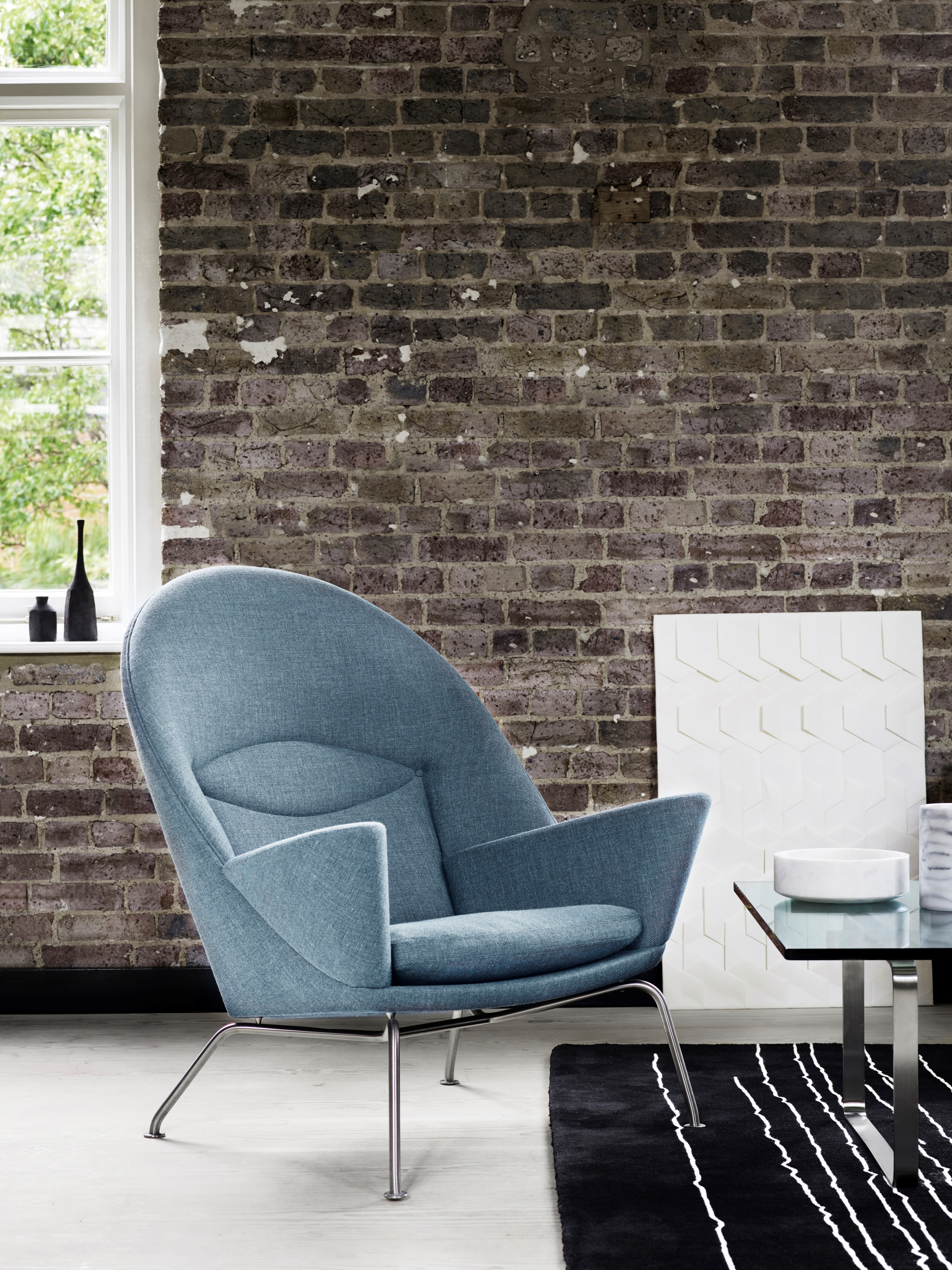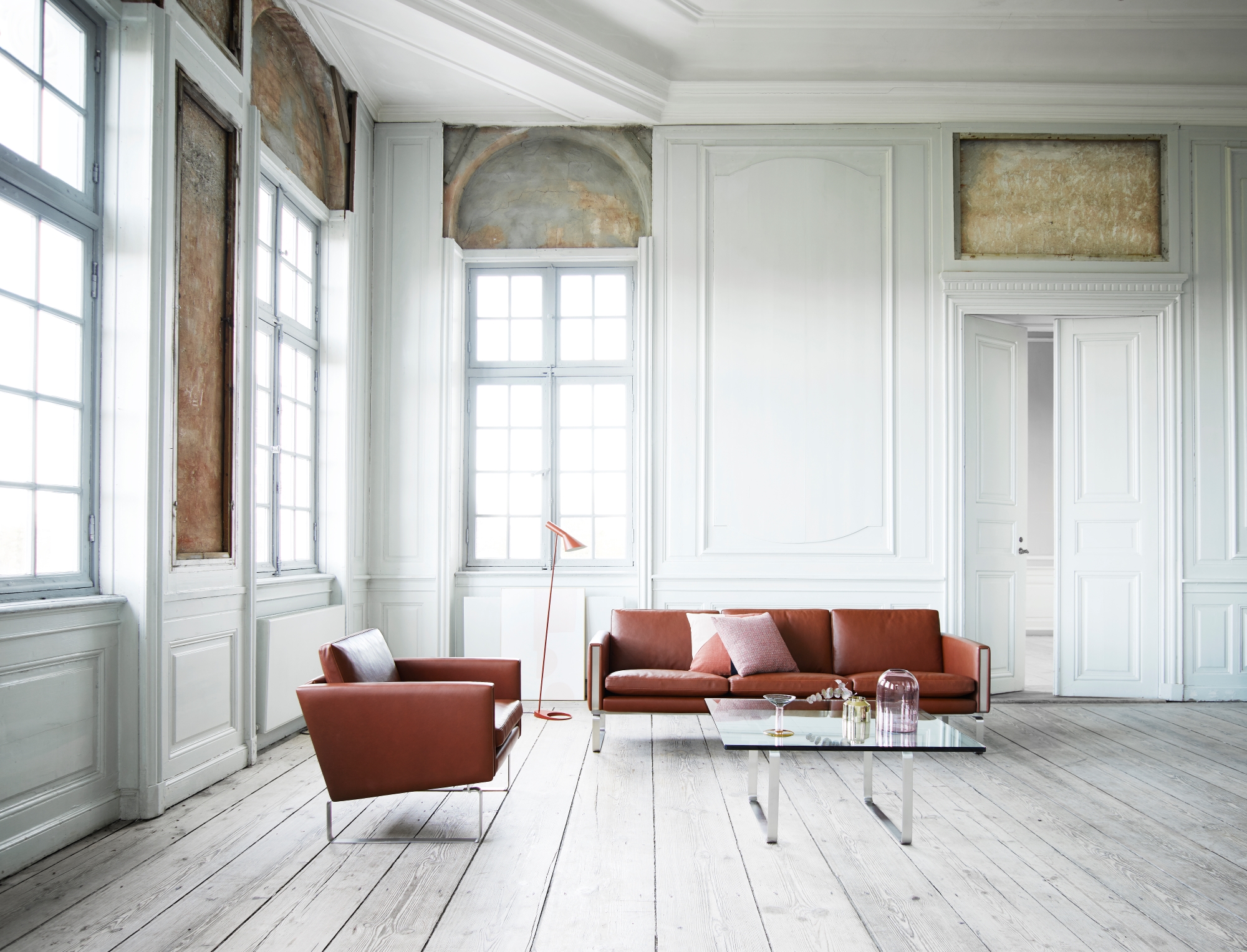 No. | 编码: CH106-Glass, Stainless steel
Top: glass. 玻璃桌面。
Base: Stainless steel. 不锈钢桌腿。
For everyday cleaning, use a soft cloth(Do not use rough cloth to avoid damage to the surface) wrung out with clean hot water. Make sure to clean the entire surface, not just selected areas. If necessary, clean with low concentrated soap.
日常清洁,可使用软布(切勿使用粗糙布面,以免对表面造成损伤)在热水中浸湿后拧干来擦拭。确保清洁整个表面,而不仅仅是清洁选定的区域。如有必要,配以低浓度的皂液进行清洁。
Ordinary glass cleaner can be used to remove any grease marks (fingerprints, etc.). Do not use scouring agents, corrosive, acidic or alkaline cleaning agents, as these can attack the surface of the glass and cause scratches.
普通玻璃清洁剂可用于去除任何油脂痕迹(指纹等)。 请勿使用去污剂,腐蚀性,酸性或碱性清洁剂,因为它们会侵蚀玻璃表面并造成划痕。
If the glass surface is allowed to remain wet for longer periods of time, limescale residues may form. Therefore, it is best to wipe up any liquids as quickly as possible.
如果让玻璃表面长时间保持湿润,可能会形成水垢残留物。 因此,最好尽快擦拭所有液体。
Keep the frame clean and dry. They may be permanently stained if water/fat/cleaning products are not removed relatively quickly. Clean the surface with a lint-free cleaning cloth added warm water and a mild detergent.(Do not use chlorine/abrasive cleaners as this may damage the surface. )
平时要保持金属框架清洁干燥。如果水滴/脂肪/清洁剂在产品上长时间保持,可能会被永久性地弄脏。此时可用蘸有温水和中性清洁剂的无绒清洁布清洁其表面。(请勿使用含氯/研磨剂的清洁剂,否则可能会损坏表面)
Five years(Standard use),5年(规范使用)
Hans J. Wegner
Designer

Among Danish furniture designers, Hans J. Wegner is considered one of the most creative, innovative and prolific. Often referred to as the master of the chair, Wegner created almost 500 chairs in his lifetime – many of them considered masterpieces. He is probably best known for his iconic Wishbone Chair which has been in continuous production since 1950.
The core of Wegner's legacy is his focus on bringing the inner workings – the soul – of the furniture to the exterior, where the simplicity and functionality can be appreciated.