CH468 | Oculus Chair 休闲椅(Black steel, Leather Thor 301)
Carl Hansen & Søn, Denmark
Designed in 1960, Hans J. Wegner's stunning CH468 Oculus Chair went into production half a century later, when Wegner's original drawings were rediscovered.
CH468 | OCULUS CHAIR
Designed by Hans J. Wegner
Hans J. Wegner's impressive CH468, called the Oculus Chair, was designed in 1960, but first put into production a half a century later.
Hans J. Wegner's remarkable CH468 is an invitation to luxurious relaxation.
The production history of Hans J. Wegner's CH468 Oculus Chair is a little out of the ordinary. While visiting Wegner's design studio, Carl Hansen & Søn became very interested in some photos and a small clay model of a 1960's easy chair. When Wegner's technical drawings of the chair were retrieved, and Carl Hansen & Søn was given the opportunity to study a full-size prototype of the chair manufactured in 1960, it became possible to start production of the Oculus chair in 2010.
Oculus is the Latin word for eye and refers to the eye shaped stitching in the chair's back upholstery. The design works to ensure that the shoulder blades can fall back comfortably into the chair creating rest for both the neck and back. The distinctive design with the spacious back, the sloping armrests and the soft seat cushion have made the Oculus Chair popular.

The impressive upholstered upper chair shape is emphasized by the sleek looking stainless steel frame with slopping legs. With its sculptured silhouette and fine seating characteristics, the Oculus Chair will be the natural focal point in any room, both standing individually or in a group.
The CH468 Oculus Chair is available with the matching CH446 foot stool, for added comfort.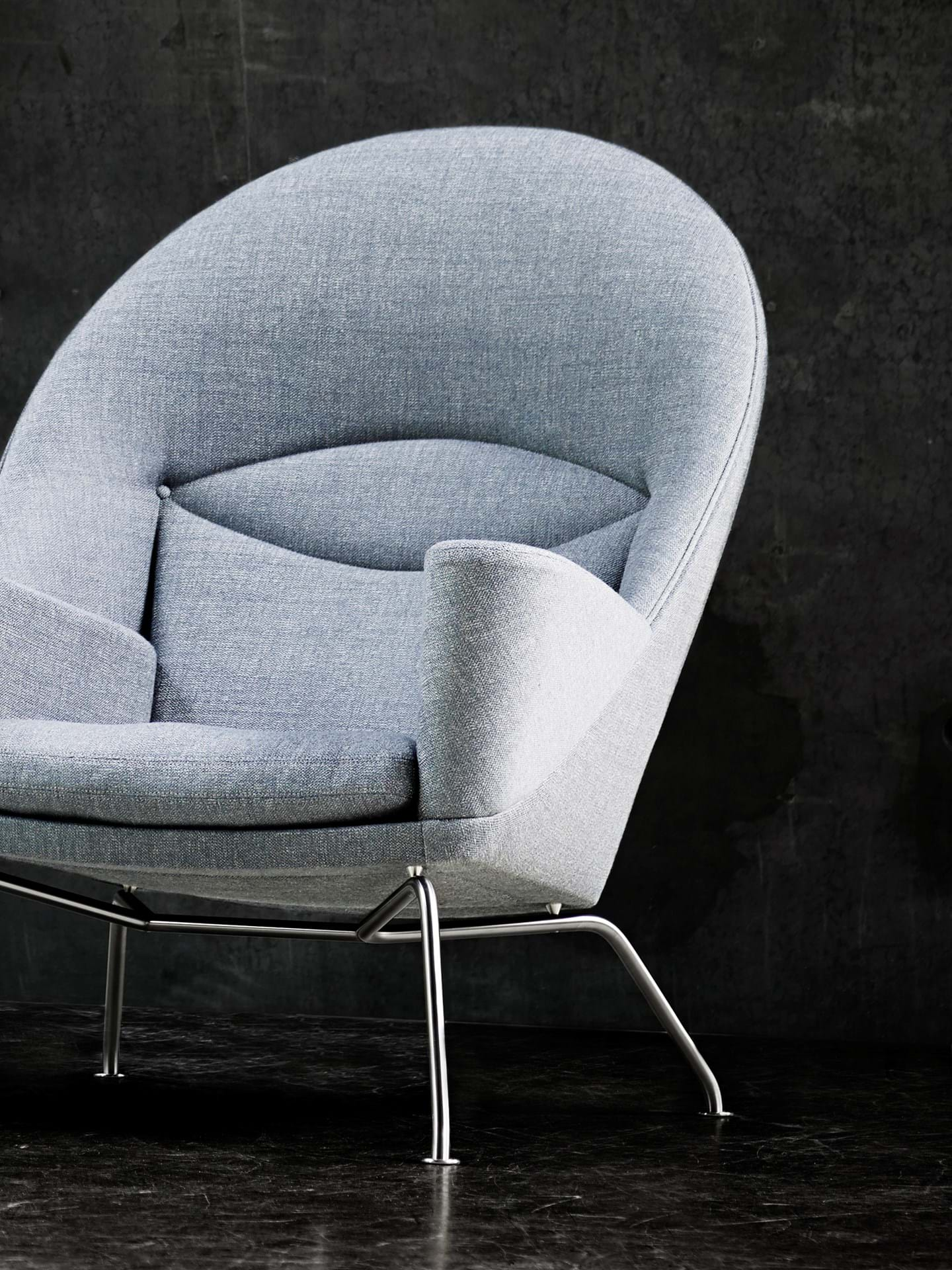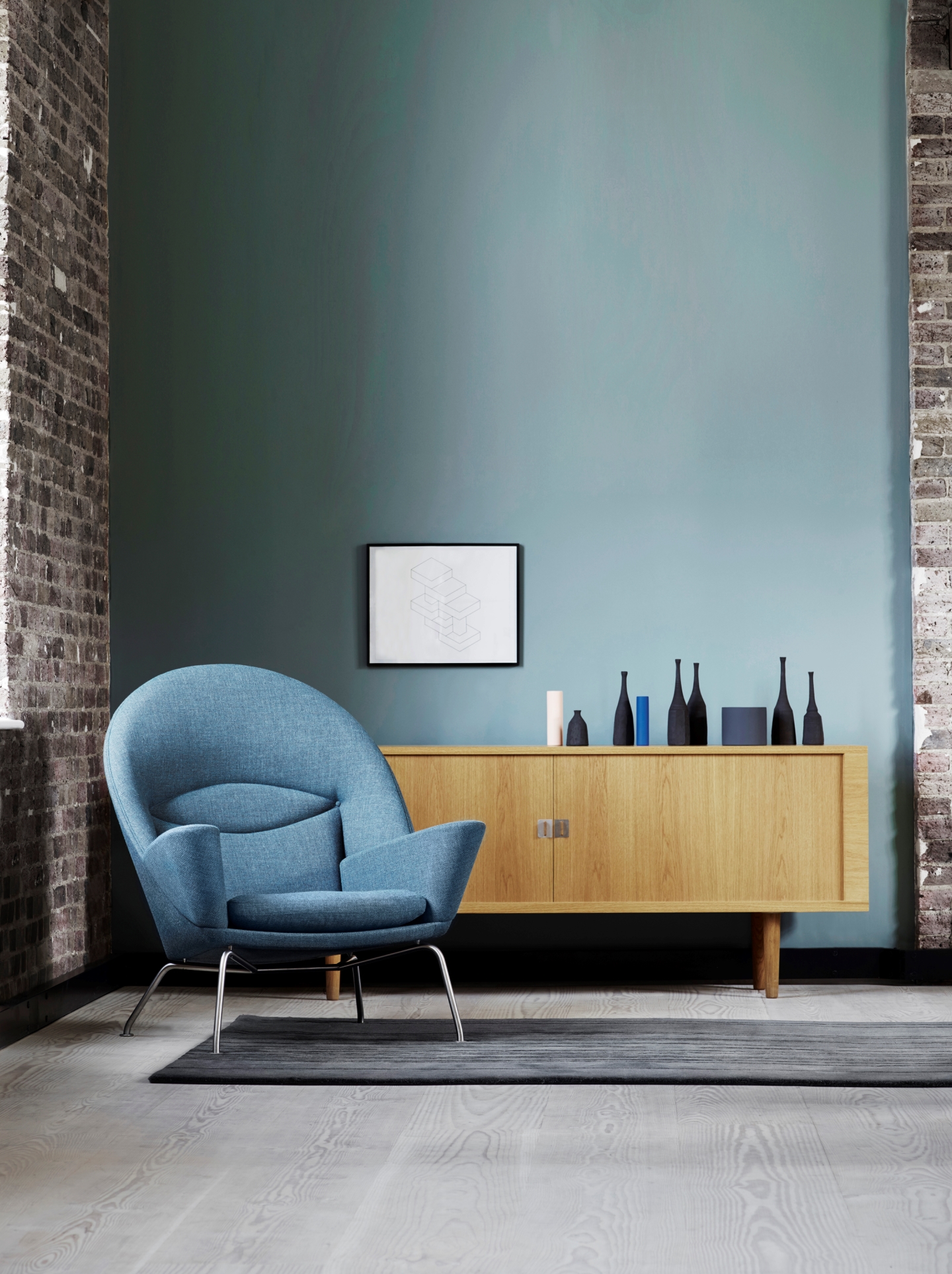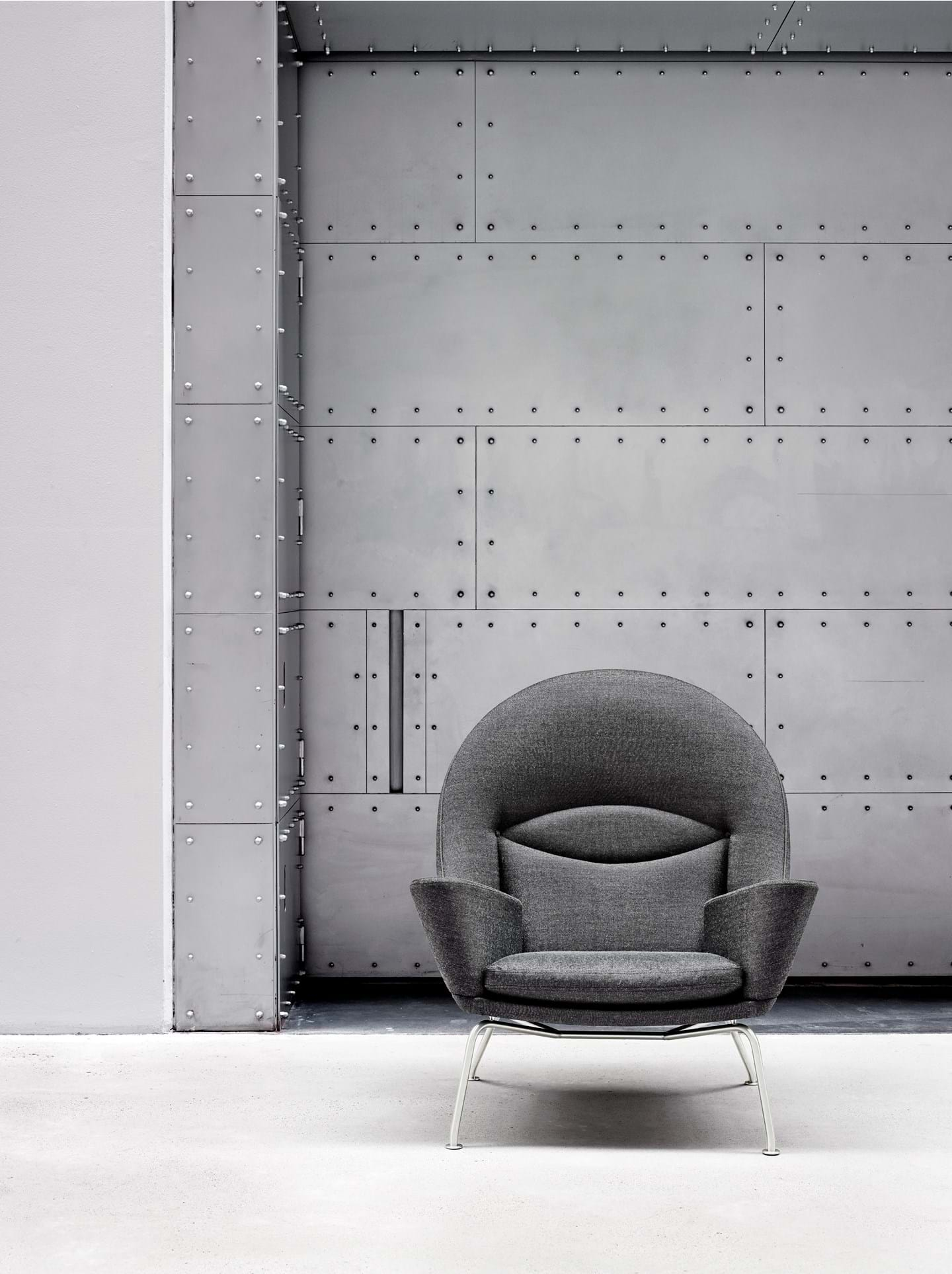 No. | 编码: CH468-Black steel, Leather Thor 301
W940mm × H1050mm × D940mm, SH400mm × SD940mm
Frame: stainless steel.
不锈钢框架。
Seat/Back: solid beech wood skeleton, and leather thor with foam.
座面/椅背由榉木原木骨架,和经过耐腐蚀处理的半苯胺天然皮革填充椅用泡沫制成。
Should not be placed too close to heat sources.
不应放在靠近热源的地方。

Direct sunlight should not be allowed for long periods, especially strong sunlight.
不应长时间让阳光直射,尤其是强烈阳光。
For everyday cleaning, use a soft cloth(Do not use rough cloth to avoid damage to the surface) wrung out with clean hot water. If necessary, clean with low concentrated soap.
日常清洁,可使用软布(切勿使用粗糙布面,以免对表面造成损伤)在热水中浸湿后拧干来擦拭。如有必要,配以低浓度的皂液进行清洁。
For the leather, regularly vacuum your leather furniture with a soft brush and avoid using detergents and sharp implements. For everyday care and cleaning, we recommend using a clean soft cloth wrung out with lukewarm water.
定期用软毛刷清洁皮革家具,避免使用清洁剂和锋利的工具。对于日常护理和清洁,建议使用干净软布蘸取温水拧干后擦拭。
Keep stainless steel clean and dry. Stainless steel may be permanently stained if water/fat/cleaning products are not removed relatively quickly. Clean the surface with a lint-free cleaning cloth added warm water and a mild detergent.
平时要保持不锈钢清洁干燥。如果水滴/脂肪/清洁剂在产品上长时间保持,不锈钢可能会被永久性地弄脏。此时可用蘸有温水和中性清洁剂的无绒清洁布清洁其表面。
Five years(Standard use),5年(规范使用)
Hans J. Wegner
Designer

Among Danish furniture designers, Hans J. Wegner is considered one of the most creative, innovative and prolific. Often referred to as the master of the chair, Wegner created almost 500 chairs in his lifetime – many of them considered masterpieces. He is probably best known for his iconic Wishbone Chair which has been in continuous production since 1950.
The core of Wegner's legacy is his focus on bringing the inner workings – the soul – of the furniture to the exterior, where the simplicity and functionality can be appreciated.