CH22 | Lounge Chair 休闲椅(Oak, White oil, Natural cord, Arm·back-Oak, Cap-Oak)
Carl Hansen & Søn, Denmark
The CH22 lounge chair was one of the first chairs in Hans J. Wegner's debut collection created exclusively for Carl Hansen & Søn in 1950 – a series that would become iconic for its representation of the modern Danish design philosophy.
CH22 | LOUNGE CHAIR
Designed by Hans J. Wegner
The CH22 lounge chair, manufactured from 1950, was part of Hans J. Wegner's debut collection for Carl Hansen & Son. The chairs were all made of wood with seats in paper cord instead of upholstery. They are among the designer's most well-known and sought-after creations today.
Thoughtful craftsmanship with striking details
After being out of the production line for several decades, Carl Hansen & Søn started producing Hans J. Wegner's CH22 lounge chair again in 2016. At first glance, one may notice the Wegner chair's large, distinctive wooden back with visible cover caps, but on closer inspection of the chair, more Wegner signature details become apparent. On the sides, you will see, for example, that the arm support is embracing the side stretcher and the seat frame only to expand to full width under the armrest, to give it optimum support. In the back, the seat's paper cords are led down around the seat frame and through a horizontal groove in the back rail. There are two refined joints on the front of the seat where the front legs are led up through the hand assembled corners.
Although the production naturally has been modernized, today, CH22 is still manufactured using the same principles of craftsmanship as when Wegner followed and participated in manufacturing the first examples at Carl Hansen's family-owned workshop in 1950. In the meantime, modernization has improved precision so that the front legs, which were originally manufactured round, can now have the same profile as the back legs of the chair. This means that they are now made as Wegner had originally drawn them on his technical drawing which was that the legs should be brought up through the seat frame and locked using wedges.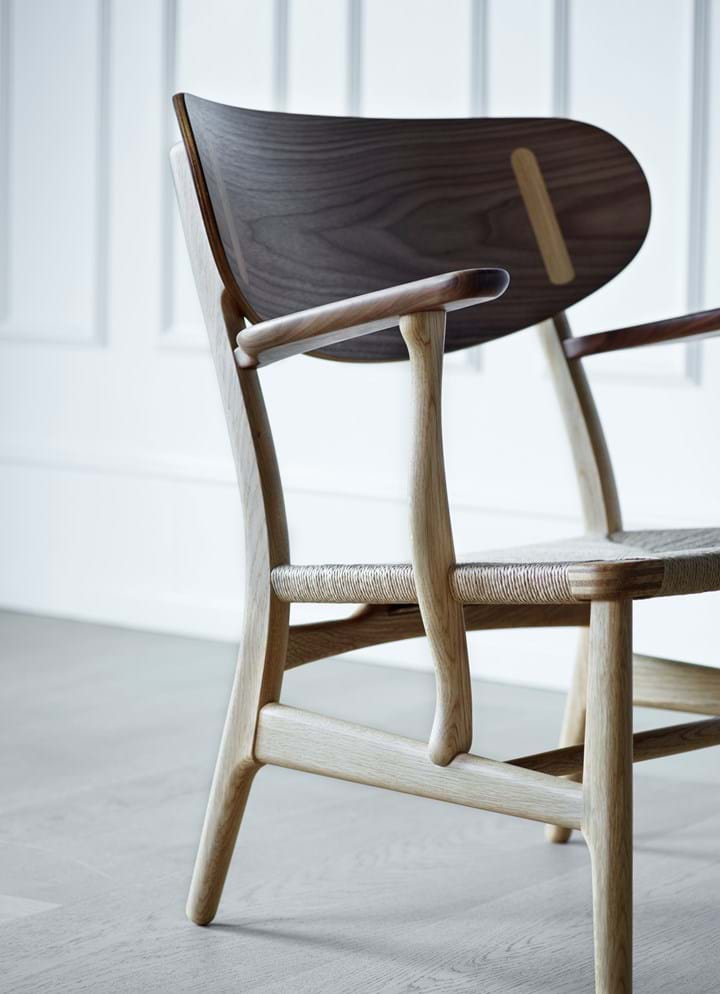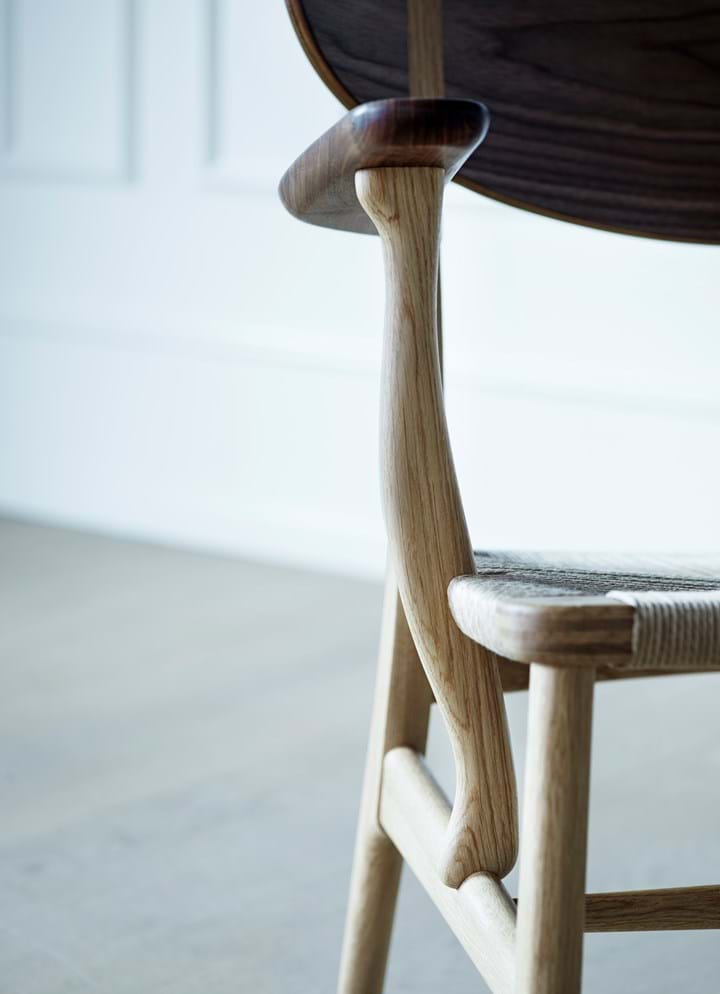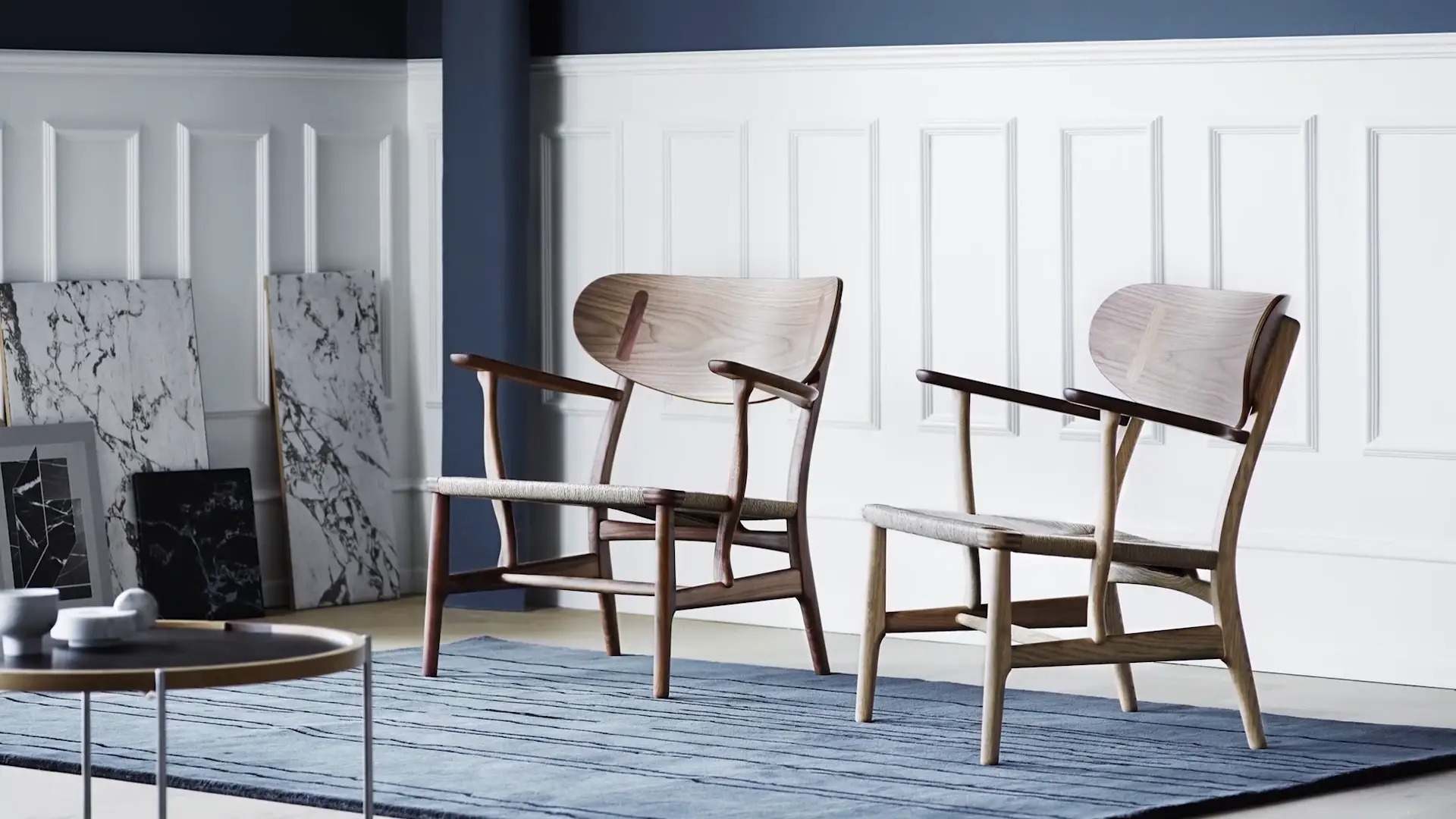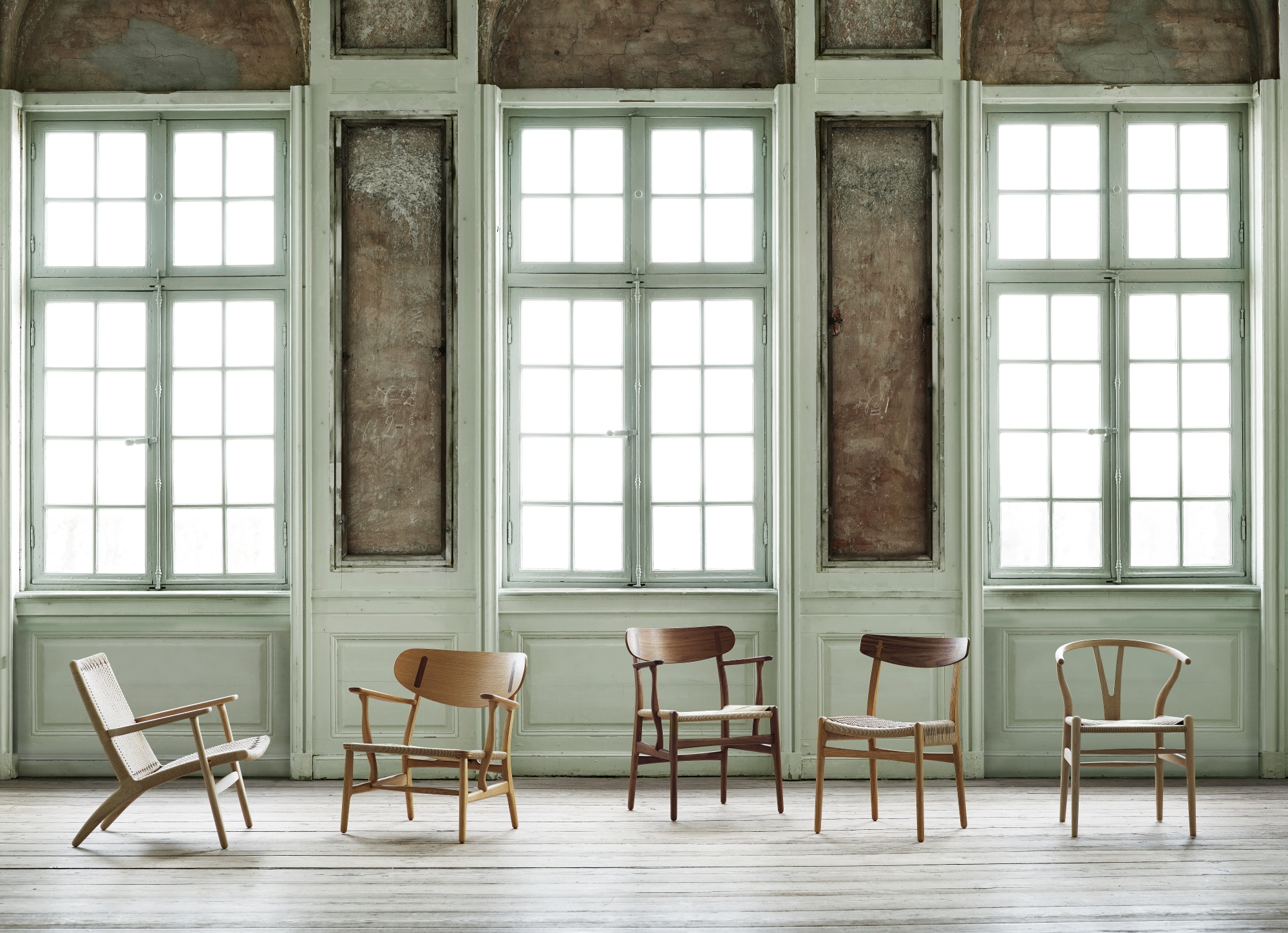 No. | 编码: CH22-Oak, White oil, Natural cord, Arm·back-Oak, Cap-Oak
W695mm × H725mm × D615mm, SH370mm × SD615mm
Frame: solid oak wood with oil treatment. 橡木原木框架, 上油处理。
Back: oak veneer with oil treatment. 橡木单板椅背,上油处理。
Armrest: solid oak wood with oil treatment. 橡木原木扶手, 上油处理。
Seat: natural paper cord. 天然色纤维绳编织座面。
Should not be placed too close to heat sources.
不应放在靠近热源的地方。

Direct sunlight should not be allowed for long periods, especially strong sunlight.
不应长时间让阳光直射,尤其是强烈阳光。
For everyday cleaning, use a soft cloth(Do not use rough cloth to avoid damage to the surface) wrung out with clean hot water. If necessary, clean with low concentrated soap.
日常清洁,可使用软布(切勿使用粗糙布面,以免对表面造成损伤)在热水中浸湿后拧干来擦拭。如有必要,配以低浓度的皂液进行清洁。
For the seat, you can wipe it using a cloth tightly wrung out with a neutral colorless soap solution. However, it is advisable not to do this too often, as it can wear the paper cord unnecessarily. If necessary, use a vacuum at low power to vacuum.
座位的清洁,可以用布蘸取中性无色肥皂溶液并拧干来擦拭。但是,建议不要太频繁地这样做,因为它可能会不必要地磨损纸绳。如有必要,可使用吸尘器低功率功能进行吸尘。
Recommend to treat your furniture with oil two to four times a year, or according to need depending on its positioning and use.
定期使用专业护理油护理,每年两到四次,根据具体使用情况,可增加护理的频繁度。
Five years(Standard use),5年(规范使用)
Hans J. Wegner
Designer

Among Danish furniture designers, Hans J. Wegner is considered one of the most creative, innovative and prolific. Often referred to as the master of the chair, Wegner created almost 500 chairs in his lifetime – many of them considered masterpieces. He is probably best known for his iconic Wishbone Chair which has been in continuous production since 1950.
The core of Wegner's legacy is his focus on bringing the inner workings – the soul – of the furniture to the exterior, where the simplicity and functionality can be appreciated.