Floor lamp
TMD Floor
Linen
Designed by
Miguel Milá
2005
Based on his famous TMM lamp, Miguel Milá was commissioned to design the TMD tabletop version. The designer came up with the idea of a shade that is raised like a flag up a mast.
In order to reduce the number of sections, he replaced wood with metal and the cross-shaped base for a circular one, taking up less space on a crowded desk. The inventive engineering remains the same—the shade's height is adjustable via a rubber band stopper, and the light is switched on/ off by pulling lightly on the cable. A thin metal ring is used to wrap and direct the cable along the shaft. The elegant lampshade, made of white linen fabric, creates a warm ambient light. With this exquisite blend of materials, the TMD lamp adds warmth to any room, even with the light off.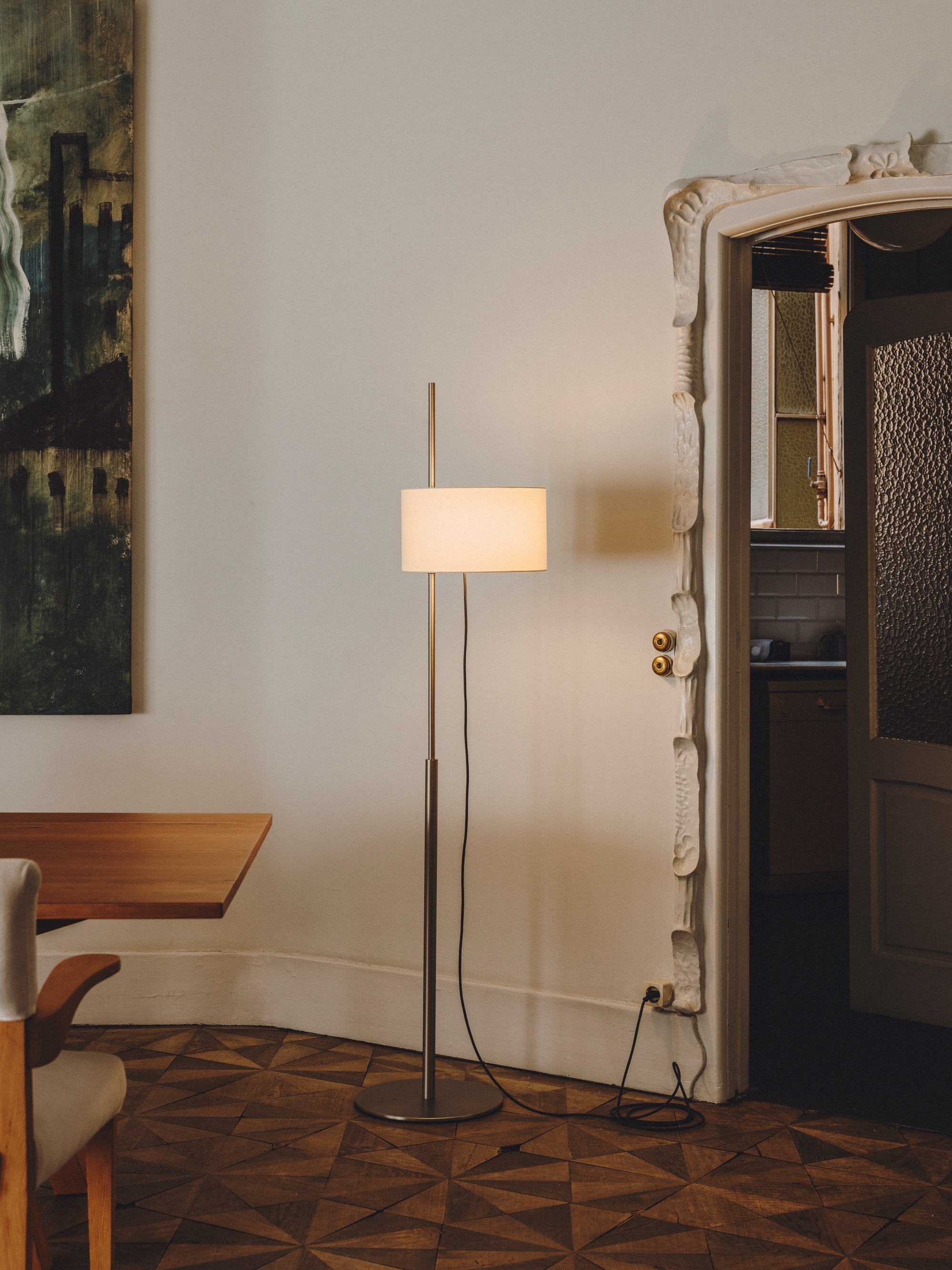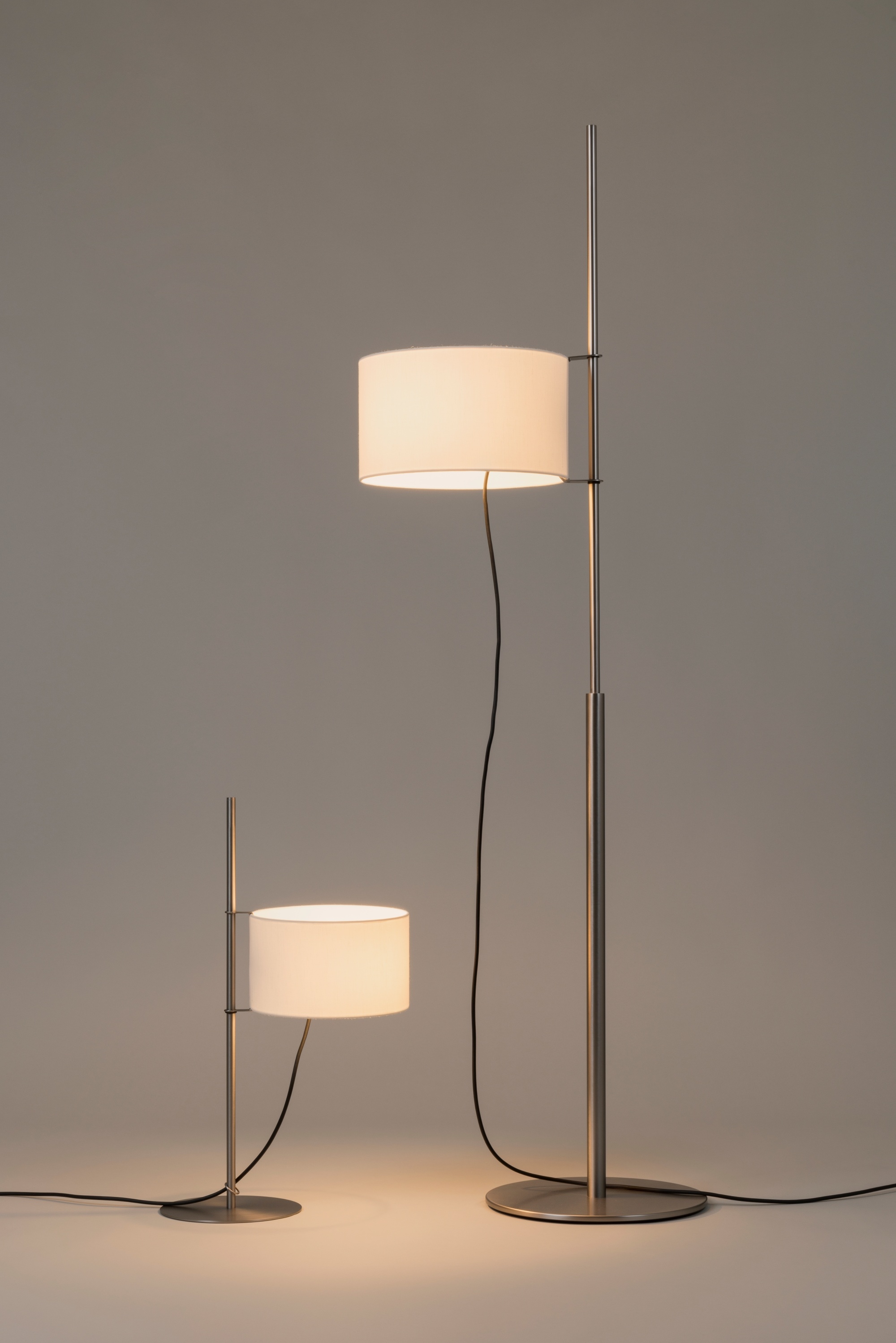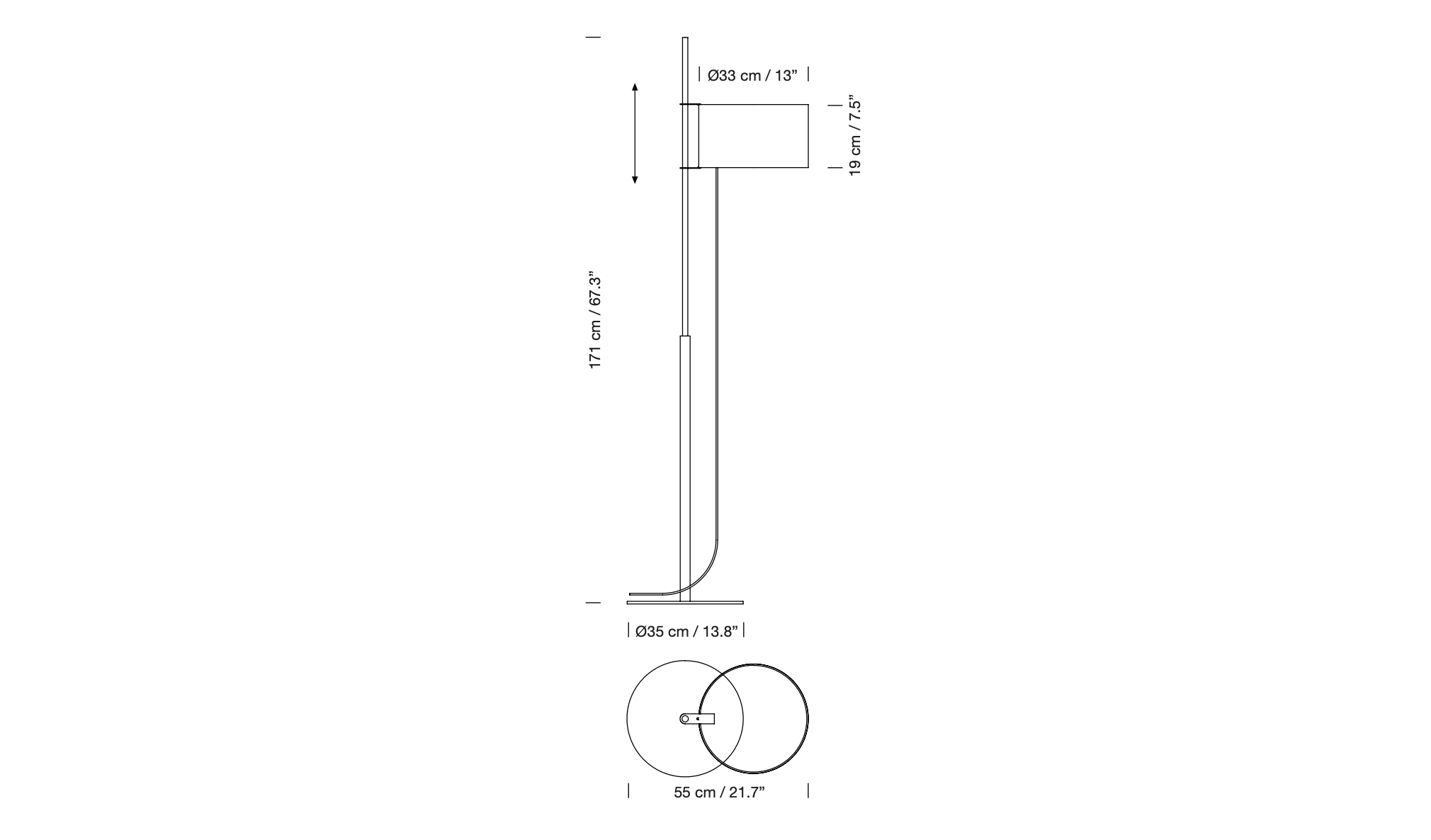 W330mm × D550mm × H1710mm
Satin nickel structure.
断面镍结构灯架。
Height-adjustable white linen lampshade.
可调节高度的白色亚麻灯罩。
The height of the lampshade can be adjusted up and down on the upper pole.
灯罩高度可在上部灯杆上进行上下调节。
The light is switched on/off by pulling lightly on the cable.
轻轻拉动电缆即可打开/关闭照明灯。
LED bulb E27-12W(included「dimmable」). LED 灯泡 E27螺口-12瓦(包含「可调光」)
Input: 100 ~ 230 Vac. (50 Hz / 60 Hz). 电压: 100-230伏
Other light sources: Max. 100 W. 灯泡最大可使用功率为 100 瓦
Bulb socket: E27 (Max. hgt. 125 mm). 替换灯泡的最大适合长度为125mm
Daily cleaning and wiping with a soft towel.
使用柔软毛巾进行日常清洁与擦拭。
Do not use ammonia, solvents or abrasive cleaning products.
请勿使用氨,溶剂或研磨性清洁产品。
Please turn off the power before maintenance.
维护前请关闭电源。
Two years(Standard use)
2年(规范使用)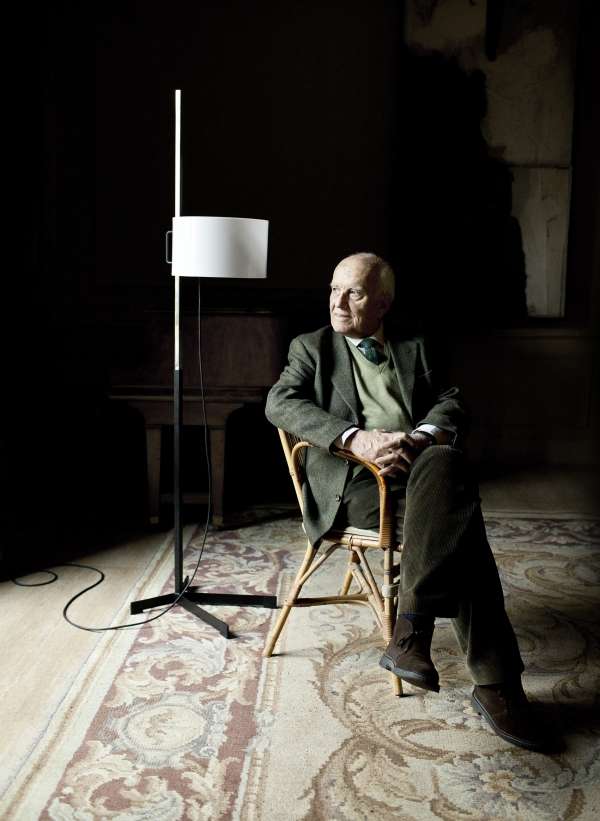 Miguel Milá
Designer
Miguel Milá, an interior designer, inventor and bricoleur, and a pioneer in his field in Spain, began working in the 1950s. With objects, resources and raw materials hard to come by at that time, Milá started designing his own furniture and lamps and soon set up his own company, Tramo (from the Spanish Tra-bajos Mo-lestos, 'Annoying Jobs'). Many of his pieces have become true contemporary classics. In 2016, the Spanish Ministry of Education and Culture in Spain awarded him the Gold Medal for Merit in Fine Arts. He has won numerous ADI awards (Barcelona), the first Spanish National Design Award (tied with André Ricard), and the ADI Compasso d'Oro for Lifetime Achievements.