Table lamp
Flo Desk
Matt white
Designed by
Foster + Partners
2011
The Flo range of lights is the result of Foster + Partners first collaboration with specialist Italian lighting manufacturer, Lumina. This minimal light integrates the latest dimmable LED technology within a streamlined, curving form. The cold-formed head and slender aluminium frame are balanced by a circular aluminium base and a delicate profile is created by eliminating superfluous moving parts, such as coils and springs. Task LED light in varnish coated aluminium and steel. Its head rotates by 300° for direct lighting, the arm pivots on base by 120°. 6W LED which you can switch on with one click for full light intensity, with two clicks for half light intensity.

In varnish coated aluminium and steel.
涂层铝和钢。
Multiple nodes of the lamp arm can be rotated at multiple angles.
灯臂多个节点可多角度转动。
2-step touch dimmer: on(one-click)/half light (two-click)/off(three-click).
灯光亮度调节为全亮(触碰一下)/半亮(触碰两下)/关闭(触碰三下)。
(Adjust by touching the dimmer on the top of the lamp head.
通过触碰灯头顶部的调光器来调节。)
LED Built-in-6W(included 「dimmable」). 内置LED灯-6瓦(包含 「可调节」)
Input: 100 ~ 240 Vac AC/50-60 Hz. 电压: 100 ~ 240 伏
Tª Colour: 2.700 K 色温: 2.700 K (暖白光)
Typical CRI: 90 色彩指数: 90
​Lifetime: 55.000 h 寿命: 55.000小时(常规情况下)
Luminous flux: 500 lm 亮度: 500流明
Daily cleaning and wiping with a soft towel.
使用柔软毛巾进行日常清洁与擦拭。
Do not use ammonia, solvents or abrasive cleaning products.
请勿使用氨,溶剂或研磨性清洁产品。
Please turn off the power before maintenance.
维护前请关闭电源。
Five years(Standard use)
5年(规范使用)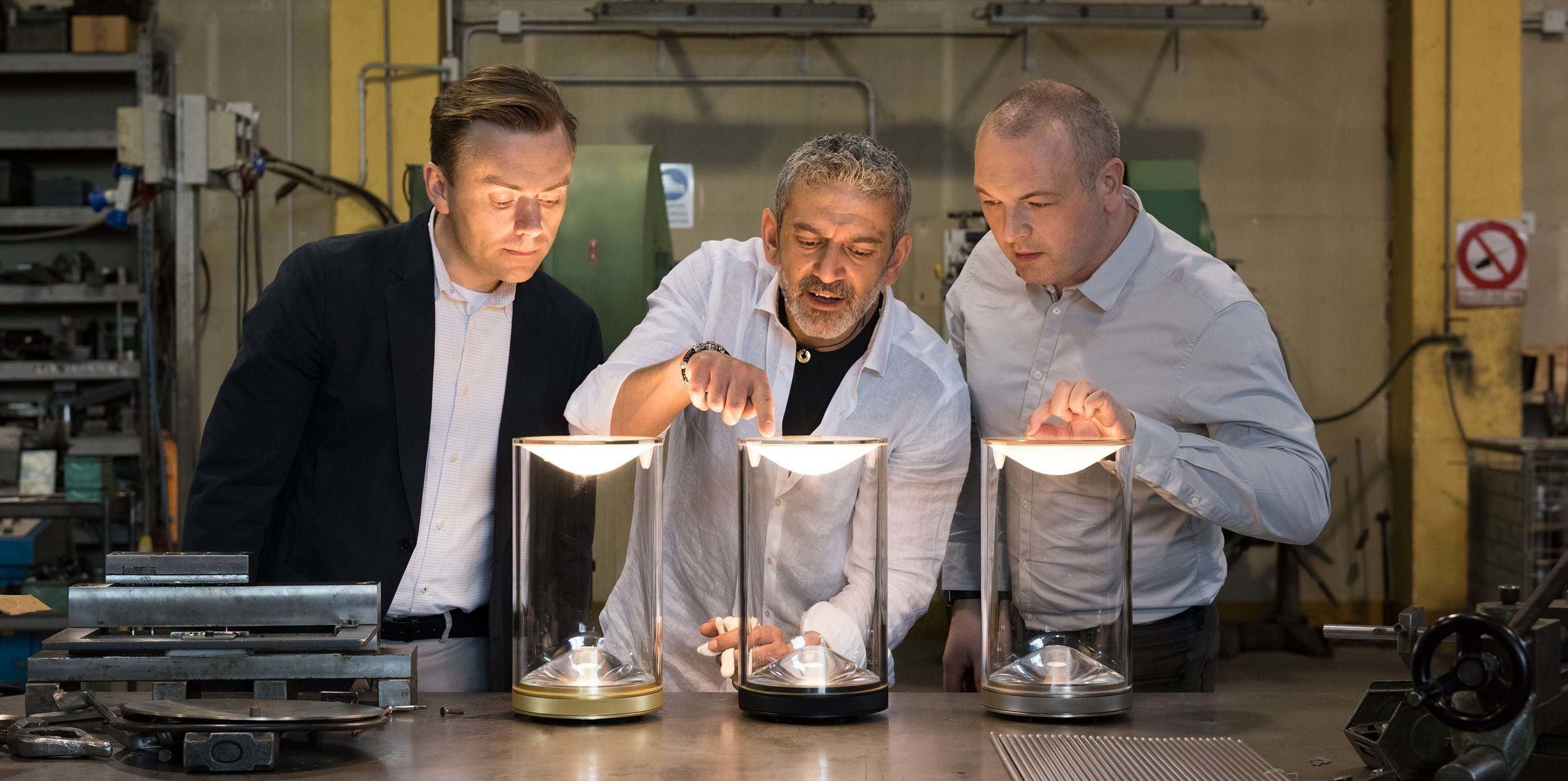 Foster + Partners
Design Studio
Foster + Partners is a global studio for sustainable architecture, engineering, urbanism and industrial design, founded by Norman Foster in 1967. Since then, he, and the team around him, have established an international practice with a worldwide reputation. With offices across the globe, we work as a single studio that is both ethnically and culturally diverse.
Our approach
Sustainability is at the heart of everything we undertake. We audit all projects against global standards, while developing bespoke strategies that drive our environmental agenda. To build sustainably requires us to design holistically, and our unique integrated design approach enables us to develop innovative strategies that have a firm focus on the future of the environment.
From within the practice, structural and environmental engineers, together with many other specialist design teams, work alongside the architects to develop fully integrated design solutions. Every project starts with fresh thinking, leading to a solution that is tailor-made to both site and user. Design is typically undertaken by a small, close-knit team; the team that starts a project sees it through to completion, thus providing continuity throughout. We always consider the built environment as a totality and to apply a truly integrated approach to responsible design.